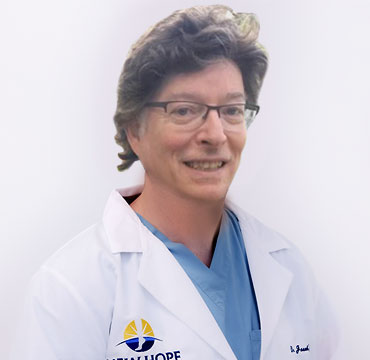 Speciality
Podiatrist
Fellowship
American College of Podiatric Foot & Ankle Surgery
Association of Extremity Nerve Surgeons
Areas of Expertise

Podiatry
Surgery
Internal Medicine

Locations
Los Angeles, Panorama City, Lancaster
Dr. Gabriel Halperin
Doctor of Podiatric Medicine
Dr Halperin came to Los Angeles in 1980, opening the Podiatric medical and surgical practice, known as New Hope Podiatry Group.
He saw all of the maladies regarding the foot and ankle, and specialized in Wound Care and Limb Preservation, all out of the office in East Los Angeles. Dr Halperin dedicated the office and his time to avoidance of amputation, especially in the diabetic population of East Los Angeles. His hospital affiliations include White Memorial Hospital, East Los Angeles Hospital, Monterey Park Hospital, East LA Doctors Hospital, Mission Community Hospital in Panorama City, Hollywood Community Hospital, and others over the years.
Dr Halperin was Board Certified in Foot and Ankle Surgery, in 1986; and is a Diplomate of the American Board of Podiatric Foot and Ankle Surgery, and a Fellow of the American College of Podiatric Foot and Ankle Surgery. He is also a Fellow of the Association of Extremity Nerve Surgeons.
In 2004, after completing a training course with Dr A. Lee Dellon, Dr Halperin initiated the specialty of the diagnosis, treatment and surgical intervention of peripheral nerve disease and trauma, and chronic pain into the practice.
Never moving away from the practice of wound care and limb preservation, he assisted in the creation of the Beverly Hospital Wound Center. There patients were able to receive the valuable intervention of Hyperbaric Oxygen, as well receiving a interdisciplinary approach to healing wounds and preventing amputation.
Additionally, Dr Halperin has participated in many clinical studies that have allowed state of the art treatments to patients that otherwise would not have been able to receive it. He is designated as a Principle Investigator in these studies. He has been part of several papers published in prestigious publications.
Dr Halperin worked with the American Diabetic Association, giving lectures to communities all over Los Angeles. Upon the creation of the Latino Diabetes Association, he joined the Board of Directors and worked with numerous screens and lectures to Latin communities, many times speaking only Spanish. He received an award from the Latino Diabetes association, and from the County of Los Angeles for his work in educating and treating the community of Los Angeles.
Dr Halperin has received numerous awards and citations for his work and dedication to the peoples of Los Angeles, as well as from the California Podiatric Medical Association. He served four years as a member of the California Podiatric Medical Association, and served as President of the Los Angeles Podiatric Medical Association twice. He lectures on numerous subjects to physician groups and nursing groups.
Dr Halperin serves on the Medicare Noridian Advisory Committee, made up representatives of medical specialty societies in California.
Foot & Ankle Reconstruction
Trauma & Limb Salvage Specialist
Surgery & Wound Care Expert