Office Hours
Mon-Fri 9:00a – 5:00p
Saturday  Appt. Only
Sunday  Closed
Orthotics & Bracing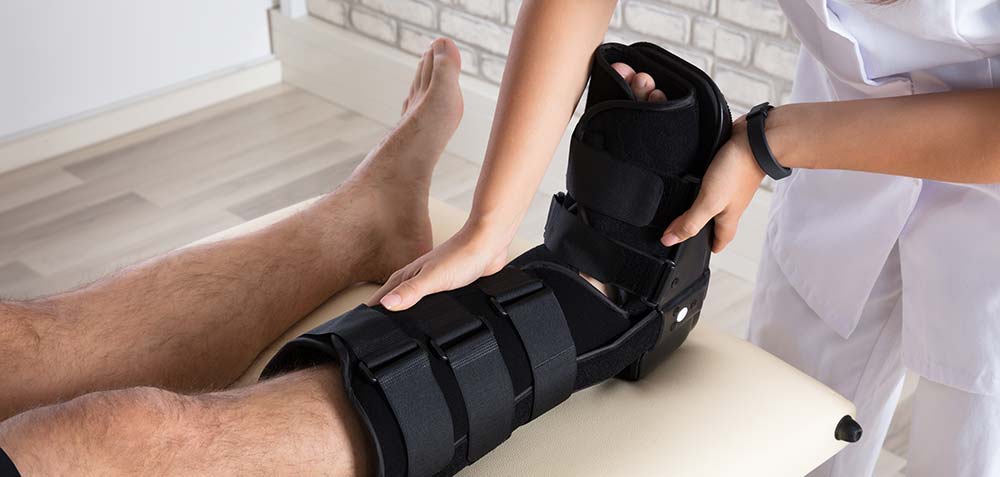 What are Orthotics?
Orthotics are custom shoe inserts that are often used as a method of control to treat many types of foot and ankle problems. Although orthotics are not truly "arch supports," they are perhaps best understood with those words in mind. Through performing functions that make standing, walking, and running more comfortable and efficient, orthotics have been a highly successful and practical treatment for foot problems.
The podiatrists and surgeons of New Hope Podiatry Group use orthotics as a conservative treatment for many foot problems. To learn what orthotic & bracing options are best for you, give us a call to schedule an appointment with any of our expert orthopedic doctors. For more information about the types of and treatment with orthotics, read below.
Types of Orthotics
Foot orthotics fall into three broad categories: those that primarily attempt to optimize foot function, those that are primarily protective in nature, and those that combine functional control and protection.
Rigid Orthotics
Rigid orthotics are chiefly designed to control motion in two major foot joints, which lie directly below the ankle joint. These devices are long lasting, do not change shape, and are usually difficult to break.
Rigid Orthotics are generally:
Designed to control joint function
Made of firm materials like plastic or carbon fiber
Require very little alteration to the patients shoe size
Extended along the sole of the heel to the toes or ball of the foot
Semirigid Orthotics
Semirigid orthotics are commonly used to provide dynamic balance to the foot while walking or participating in sports. This orthotic is not a crutch, but an aid to the muscles, joints, and tendons it supports.
Characteristics of Semirigid Orthotics include:
Designed to provide dynamic balance
Consists of layers of soft material, reinforced with rigid material
Constructed appropriately to the sport and the athlete
Soft Orthotics
Soft orthotic devices help to absorb shock, increase balance, and take pressure off uncomfortable or sore spots. These orthotics are molded by the foot's walking action or fashioned over a plaster impression of the foot. Soft orthotics are usually used to treat arthritic, deformed, and diabetic foot problems.
Characteristics of Soft Orthotics include:
Designed to absorb shock, increase balance, release pressure
Constructed of soft, compressible materials
May require extra room in shoes or prescription footwear
Worn against the sole to the foot, extending from heel to toes
Orthotics for Children
Orthotic devices are effective in the treatment of children with foot deformities. Most podiatric physicians recommend that children with such deformities be placed in orthotics soon after they start walking, to stabilize the foot. The devices can be placed directly into a standard shoe or an athletic shoe.
Usually, the orthotics need to be replaced when the child's foot has grown two sizes. Different types of orthotics may be needed as the child's foot develops and changes shape.
Other Types of Orthotics
Various other orthotics may be used for multidirectional sports or edge-control sports, like skiing, ice skating, or inline skating. Foot orthotics can also be used to treat back problems caused by foot imbalance.
For more complex foot and ankle deformities, custom or non-custom bracing can be used to improve function and to relieve pain. Many of these braces allow for stabilization of the foot and the ankle, and may incorporate an orthotic-like foot plate. These braces can usually fit within a standard shoe, and may provide an alternative to surgery for some foot and ankle problems.
Orthotic Tips
Some general tips for those with orthotics include:
Wear shoes that work well with your orthotics
Bring your orthotics with you whenever you purchase a new pair of shoes
Wear socks or stockings similar to those that you plan on wearing when you shop for new shoes
Return as directed for follow-up evaluation of the functioning of your orthotics. This is important for making certain that your feet and orthotics are functioning properly together